Holmer Lake Primary School's
question of the week
from Mr Oswin is:
If a Telford version of Monopoly was created, what would be on the board (and why) and what would it replace on the traditional board?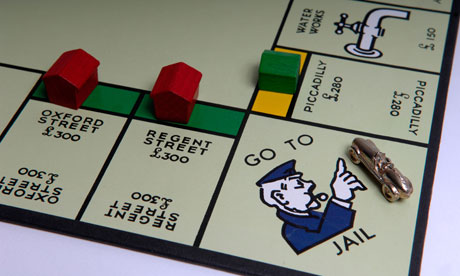 This is a great question and hopefully it'll get people thinking about where they live. It's a shame we couldn't get a Telford version of Monopoly made because we'd get sued by Hasbro who own the rights to the game. The school would love to get some more ideas so why not
leave them your ideas on their blog
?
Here's my thoughts on a Telford version of Monopoly ...
The railway stations could be Telford Central, Wellington, Oakengates and Donnington Rail Freight Terminal. The electric company and water company could be replaced with Stafford Park and Hortonwood.
Free Parking should be replaced if it's going to realistic! How about replacing it with the Wrekin? The jail could be replaced with Malinsgate Police Station.
Sutton Hill
(Old Kent Road)
Woodside
(Whitechapel Road)
Brookside
(The Angel Islington)
Randlay
(Euston Road)
Hollinswood
(Pentonville Road)
Stirchley
(Pall Mall)
Wrockwardine
Wood (Whitehall)
The Humbers
(Northumberland Avenue)
Ketley
(Bow Street)
Lawley
(Marlborough Street)
Shawbirch
(Vine Street)
Donnington
(Strand)
Trench
(Fleet Street)
Madeley
(Trafalgar Square
Priorslee
(Leicester Square)
Lightmoor
(Coventry Street)
The Rock
(Piccadilly)
Oakengates
(Regent Street)
Dawley
(Oxford Street)
Wellington
(Bond Street)
Apley
(Park Lane)
Little Wenlock
(Mayfair)