I was convinced by
a post on the Telford Live website
to go along in person Thursday night's Telford & Wrekin Council meeting at TCAT and I would encourage anyone who wants to know why the council is so poorly run and why such ridiculous decisions are being made to go along and see for themselves how their councillors behave.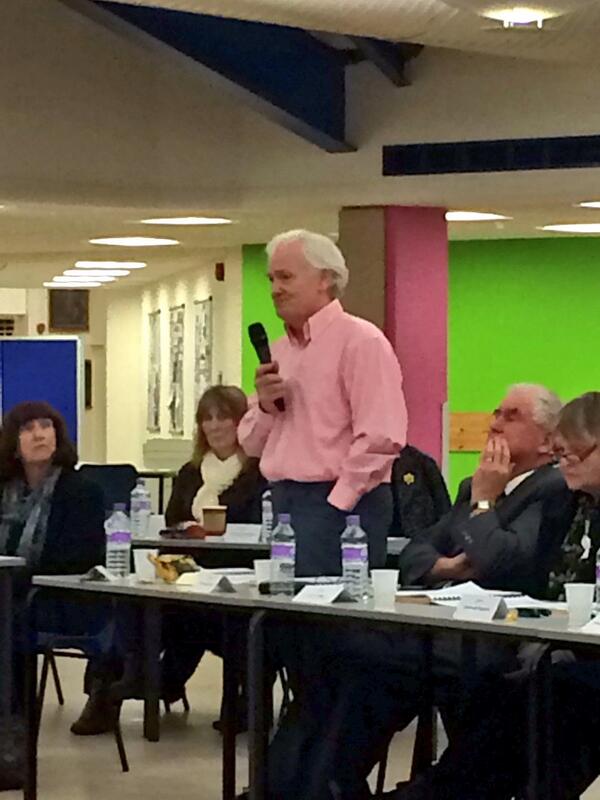 Cllr White explaining how ATOS have
murdered 10,000 people
There is very little substance for the first half of the meeting which is just going through the motions, listening to some rather dry reports from cabinet members that have clearly been prepared by officers and would mean nothing to anybody who isn't already heavily involved in the subject. Where it gets interesting (for want of a better word) is the second half which is councillors' questions and motions.
The councillors' questions consist of Labour councillors asking their leader if he is aware of this and that and then finding that in fact, yes, he does know about it and by happy coincidence has a short speech already prepared about it. This is then followed by a brief declaration of love and respect for the great leader who is doing "a great job". Conservative councillors follow with a couple of questions which seem to be almost word for word what we in UKIP have been saying about things that are going on (you're welcome guys, we're happy to lead the opposition from the outside until the next election) which the leader dismisses as political statements. Labour councillors - Cllrs Richard Overton and Shaun Davies in particular - heckle the Conservatives throughout and Cllr Burrell argues with the speaker about what he can and can't do before throwing his teddy out of his pram.
The criticism of the leader of the opposition making political statements leads straight into councillors' motions which are political statements on national issues which the council has no power over and are frankly a waste of time. Last night it was calling on the council to call on the government to recognise veterans of British nuclear weapons testing and to sack ATOS who have, so Labour councillors insisted last night, killed 10,000 people by making them work or telling them that their benefits are being reviewed.
The "debate" on the ATOS motion consisted of Labour councillors slagging off the government, complaining that ATOS is French and makes a profit and accusing them of corporate manslaughter (which is quite possibly libellous) whilst the Tories largely agreed that ATOS were crap but didn't agree that they'd killed 10,000 people. In the end they all supported the motion which might have had something to do with it being a recorded vote but ultimately it was nothing more than an opportunity for Labour to grandstand on national politics.
The only motion on local issues was from the Conservatives who wanted the council to welcome the u-turn on council tax from the Labour administration who have put up council tax for the last 2 years while the government have been offering cash not to increase it and are now freezing it until the next election even though the millions on offer for freezing council tax is no longer available. There followed about half an hour of what newspapers might call "spirited debate" while both sides called each other childish names and claimed the credit for everything short of world peace. An amusing comment came from one Labour councillor whose name I don't recall who said that "everybody knows you can't do anything in 4 years" which didn't stop her colleagues listing all their achievements in the last 2 years since the election.
I came away from last night's meeting with even more of a determination to clean up this council. It's not just the poor decisions and waste, it's the unprofessional and juvenile behaviour of the councillors who are spending millions of pounds of our money and making decisions that affect the lives and livelihoods of over 160,000 people. Last night we heard about "3% Mark" Pritchard, Ed "Wallace" Miliband and "Burglar Bill" McClements. Name calling, making stupid noises and interrupting people when they're speaking are things I'd associate with a classroom full of dysfunctional teenagers rather than professional politicians in a council meeting.